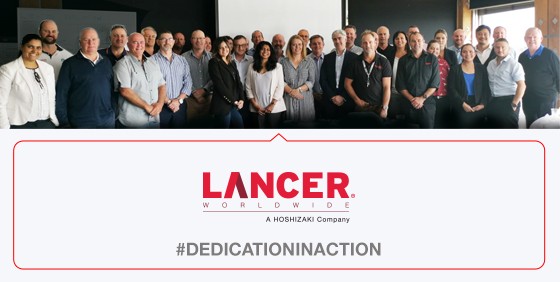 After successfully relaunching Lancer Beverage to Lancer WorldWide, we recently concluded our two-day National Conference at The Lakes Resort, Brebner Drive, West Lakes Adelaide. Leadership teams across all departments at Lancer Worldwide Australia were present at the conference. The event witnessed unveiling of the business objectives for 2020, team building activities, launch of Lancer Worldwide Logo, 4 pillars of the brand to successfully capture the ANZ market.
The first day kick-started with an ice-breaking session where a special Lancer Bingo game was conducted. The unique activity helped the attendees to know each other and break the ice. Following this exciting session, EJ Morrow, Global President at Lancer Corporation presented an overview of Lancer's objectives for 2020. Go-to-market strategies were discussed through a video presentation and Q&A session. EJ's vision clearly laid a channelized pathway to achieve the business objectives for 2020.
The visionary session of EJ was followed with a session by Jack Clay, NZ Sales Manager. Jack presented a breakdown of the objectives, making it easier for the teams to work towards achieving them. Stephen Horwood, the Financial Controller announced the financial results of January 2020 which further helped the teams analyse the performance during the same period in January 2019. Brett Viertel, Head of Sales, Beverages continued the session, presenting an industrial overview of the prevailing market conditions. This enlightening session was focussed on implementing a customer-centric approach, improving turnover time and addressing the concerns of customers in a timely manner.
While Stephen gave us an marco perspective of the industry, Laurie Boxwell, Managing Director of Hoshizaki Lancer Worldwide, ANZ gave us insights into the micro-level aspects. Laurie enthralled the attendees with an enlightening session based on the business best-seller book 'The 4 Disciplines of Execution' by Chris McChesney, Jim Huling, and Sean Covey. He discussed how the 4 disciplines of execution – Focus, Leverage, Engagement and Accountability needs to be integrated in the company's DNA to achieve organisational goals.
On the 2nd day of the conference, Laurie and Stephen presented a session about what 2020 holds for us.The brand launch of Lancer WorldWide was received with a thundering applause, indicating a renewed vibe and energy to take the brand's legacy forward. The four pillars – Innovation, Quality, Simplicity and Transcend that forms the DNA of the brand was discussed in-depth. The launch strategy of the Pillar Campaign for the ANZ market was also presented during the conference.
With an incredible overview of market insights, growth plans, customer-centric strategies, performance-oriented objectives discussed and brain-stormed during the conference, we are motivated than ever to take on new challenges in 2020 and implement the knowledge acquired during the event to ensure a successful year ahead.